Collaboration designed for teams that ship fast
Accelerate the productivity of your technical teams with a purpose-built collaboration platform.
Collaboration should be part of your toolchain, not an afterthought.
Technical and operational teams have complex tools, processes, and team structures. But connecting the dots isn't easy, and collaboration tools designed for general use don't paint a full picture of how fast-moving, highly technical teams work.
Help your team move faster and more effectively with an operational hub that consolidates your teams and processes in one place, deeply integrated with the rest of your DevOps stack.
One platform to accelerate productivity
Modern team messaging, audio & screenshare
Collaboration platform matched to common R&D processes — from planning sprints to managing releases to resolving production incidents.
Accelerate processes with shared checklists and automation
Reduce confusion, delay, and risk across the most vital functions in your organization.
Unified communication
Seamlessly connect operational workflows with general communication tools your team uses daily, including Microsoft Teams and Zoom.
Open source and extensible by design
Flexible and easily customized to meet ever-changing workflows and security requirements. Supported by a rich ecosystem of community-driven apps, an open API, and a developer framework.
Integrated into your workflow
Streamline information accessibility and collaborate more effectively with robust, extensible integrations that surface key data from across every tool in your teams' workflow
Channels
Real-time and async team messaging with integrated voice and screensharing
File, image, and link sharing
Rich Markdown formatting
Multi-language code syntax highlighting
Unlimited and searchable message history
Playbooks
Customizable workflow playbooks
Dynamic task checklists
Task automation
Status dashboard and broadcast
Analytics dashboards
Connections
Deep integrations with popular developer tools
Community-built integrations — over 6000 contributors world-wide
Build your own with App Framework and open APIs
Controls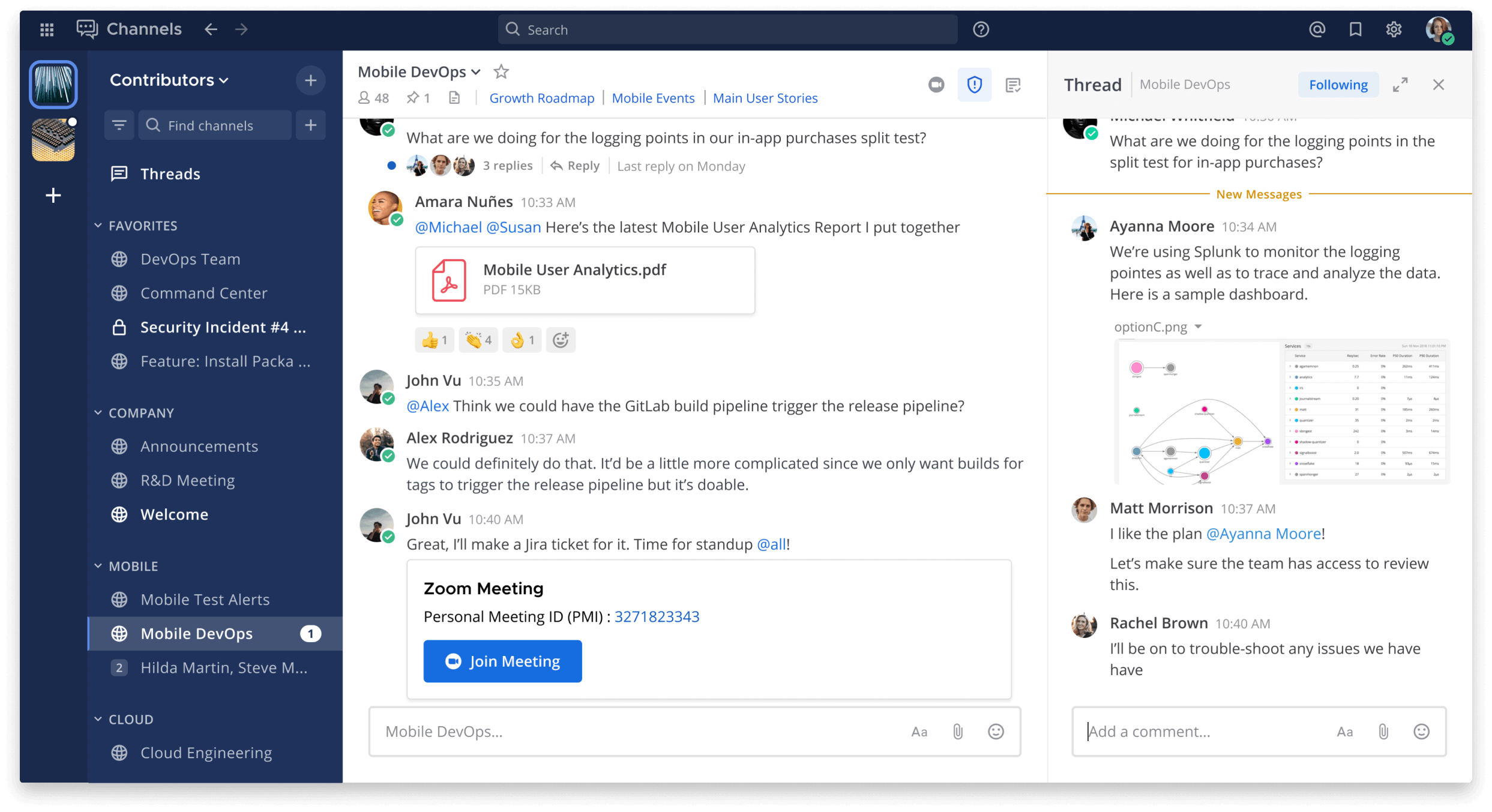 Collaboration designed for technical workflows
Collaborative workflow tools
Channel-based team messaging supporting mentions, threading, and customizable alerts.
Flexible playbooks and run automation
Pre-scripted incident response playbooks with assigned teams, standard procedures, integrated automation, statuses, and timelines.
Project management
Kanban boards integrated directly into your workspace for organizing and streamlining work.
Integrated tooling
Connect your DevOps toolchains to reduce context switching and accelerate repeated processes.
User management
Keep your data in the right hands with granular accessibility controls and SAML SSO and SCIM support.
Unlimited UI and UX customization
Extend and customize functionality to meet specific productivity, security and compliance needs.
The greatest benefit of Mattermost is that it unclutters our communication. We've been able to get rid of those pesky reply-to-all mail threads that drive everyone crazy. One of the areas where this works really well is with our Nagios infrastructure monitoring system.