Designed for technical teams, built for security
Workflow-centric team collaboration that conforms to your security and compliance framework.
Are sensitive conversations spilling into unsecure tools?
When your team is frustrated by their tools, sensitive conversations spill into unsecure communication mediums.
From government and defense agencies to highly regulated industries, organizations with nation-state level security must choose solutions to minimize the risk of data breaches or exposure of sensitive information. Stop compromising between data control and performance with a collaboration platform built for both.
Mattermost offers a collaboration tool that your technical team will love to use — that you can willingly approve.
Highly secure teams get more work done with Mattermost
4x increase in information availability.
US Air Force pilots now have 2 hours of information availability of flight plans on their personal mobile devices while commuting to the aircraft versus 30 minutes when using a paper-based system.
90% decrease in time to initial response.
A global bank reduced time to first response during incidents from 20 minutes to 2 minutes by adopting automation and channel-based communication in Mattermost.
Avoid costly outages and downtime.
A major media company uses Mattermost as their business continuity contingency plan to ensure their team stays connected during infrastructure outages, preventing downtime costing upwards of $100,000/minute.
High-impact productivity tools your team will love
High-impact productivity tools that technical and operational users (and your compliance team) will love
Team messaging for secure environments
Modernize team messaging, audio & screenshare for secure environments
Go beyond chat with a workflow-centric collaboration platform matched to technical processes.
Achieve security and infrastructure goals
Achieve your security and infrastructure goals with cloud-neutral deployment
Deploy on-prem or in a secure cloud for the control and visibility you need, when you need it.
Shared checklists & automation accelerate critical processes
Accelerate mission-critical processes with shared checklists and automation
Reduce confusion, delay, and risk across the most vital functions in your organization.
Built for security, privacy and compliance
Flexible and easily customized to meet ever-changing requirements. Built on a transparent open source platform that can be rapidly extended and modified through open APIs and a rich developer framework.
Integrate essential tools
Robust integrations surface exactly the functionality your team needs, when they need it, for better context and faster response times.
Channels
Real-time and async team messaging with integrated voice and screensharing
File, image, and link sharing
Rich Markdown formatting
Multi-language code syntax highlighting
Unlimited and searchable message history
Playbooks
Customizable workflow playbooks
Dynamic task checklists
Task automation
Status dashboard and broadcast
Analytics dashboards
Connections
Deep integrations with popular developer tools
Community-built integrations — over 6000 contributors world-wide
Build your own with App Framework and open APIs
Controls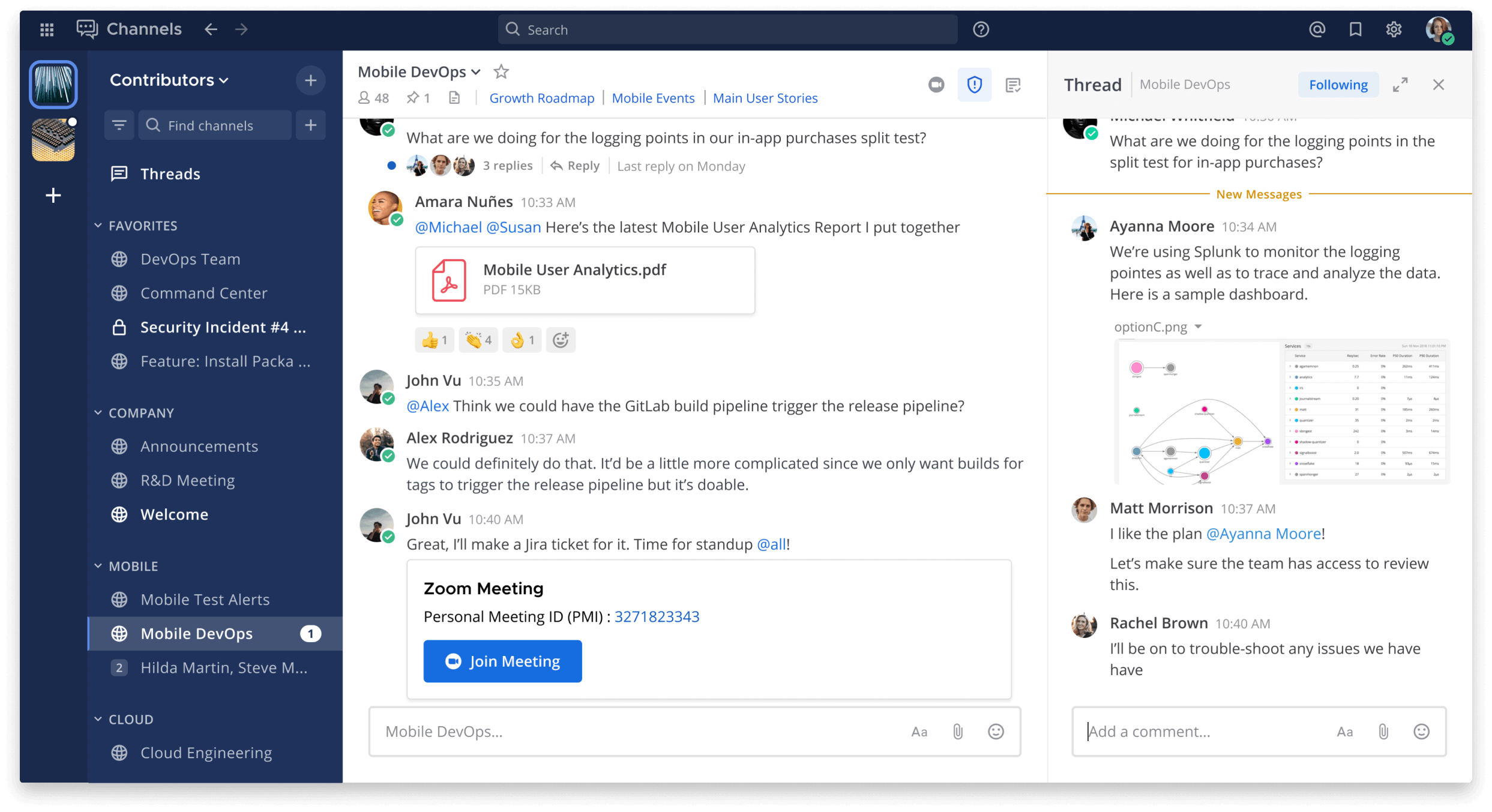 Stop data leaks before they start
Self-managed deployment and data ownership
Retain full control over your company's sensitive data with no third-party monitoring. Deploy in an air-gapped network for an additional layer of security.
Flexible data retention controls
Define granular controls for enterprise data archiving to keep data properly secured and accessed.
Advanced mobile security
Stay in control of your mobile communications with encryption keys and certifications. Access to full source code lets you create custom solutions.
Compliance auditing with oversight
Pull compliance reports on user conversations and behaviors. Audit logging enables oversight and protection of ethical boundaries.
Secure cloud and data isolation
Get a dedicated Kubernetes cluster, fully isolated from other customers, fully managed by Mattermost with the highest security.
EIA integration
Connect to Enterprise Information Archiving systems along with custom solutions to meet regulatory needs.
Data encryption at rest and in transit
Keep your data safe with encryption under your control, at rest and in transit.
Full access to APIs, drivers, and source code
See for yourself why we are the industry's most secure solution.
Many of our larger members could never discuss security issues with each other in real life because their lawyers would go crazy. But because Mattermost provides a secure platform, they can collaborate with other organizations within H-ISAC to solve problems.