More insight, less risk.
Decrease risk and error rates with a closed-loop reliability platform to continuously improve response.
The right collaboration tools stop errors before they happen.
Technical operations teams are at the frontline of your business, ensuring every system and process runs smoothly. But when standard procedures aren't followed correctly, or when key steps are missed, mistakes happen and productivity slows down.
From organizations in regulated industries with high-risk for security breaches to innovative tech companies who move fast and sometimes break things, reducing risk and error rates helps keep them moving forward. Mattermost helps your team continuously improve response, resolution, and quality management workflows by allowing teams to pre-script key operations and track results to improve performance over time.
Effective teams decrease risk with Mattermost
99% faster IT time-to-resolution.
Crossover Health improved their average IT support ticket resolution time by 99% by integrating their support tools into Mattermost.
90% decrease in time to initial response.
A global bank reduced time to first response during incidents from 20 minutes to 2 minutes by adopting automation and channel-based communication in Mattermost.
Avoid outages and downtime costing upwards of $100,000/minute.
A major media company uses Mattermost as their business continuity contingency platform to ensure their team stays connected during infrastructure outages, preventing costly revenue losses.
A productivity platform that keeps technical and operational teams one step ahead
Workflow transparency for effective collaboration
Modernize team messaging to fit R&D processes — from planning sprints and managing releases to resolving production incidents.
Accelerate incident response with shared checklists and automation
Improve incident response time and decrease the severity of incidents with better workflow documentation and cross-system observability.
Iterative and flexible by design
Optimize your workflows with systems designed to incorporate learnings and automation to improve reliability processes.
Integrated with your entire toolstack for better observability
Streamline information observability and collaborate more effectively with robust integrations that surface key data from across every tool in your teams' workflow.
Built for security, privacy and compliance
Deploy on-prem or in a secure cloud for control and visibility. Tailor permission schema at the team, admin, and user level for flexible control.
Channels
Real-time and async team messaging with integrated voice and screensharing
File, image, and link sharing
Rich Markdown formatting
Multi-language code syntax highlighting
Unlimited and searchable message history
Playbooks
Customizable workflow playbooks
Dynamic task checklists
Task automation
Status dashboard and broadcast
Analytics dashboards
Connections
Deep integrations with popular developer tools
Community-built integrations — over 6000 contributors world-wide
Build your own with App Framework and open APIs
Controls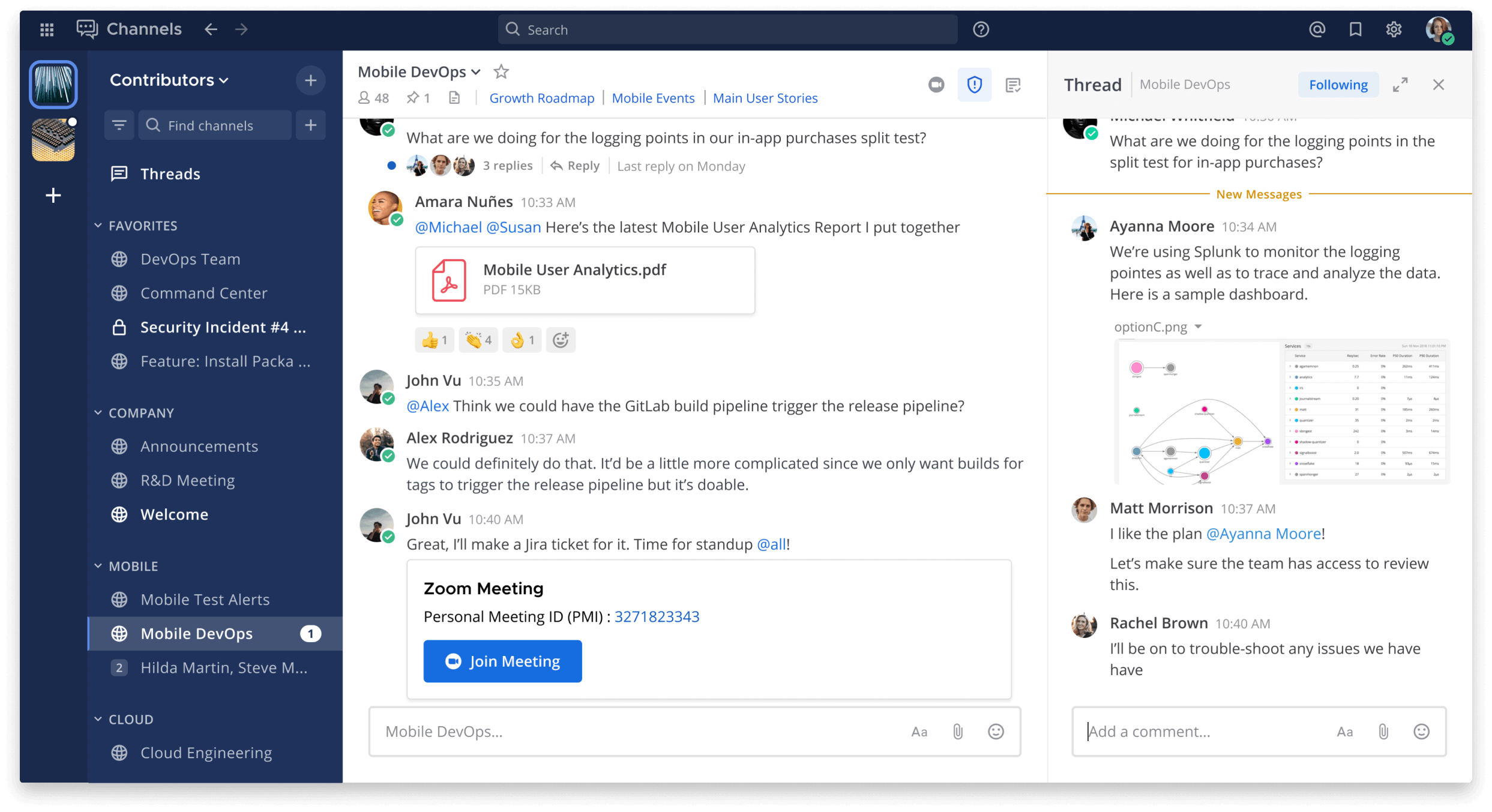 Better transparency for more reliable workflows
Maintain consistent execution
Pre-scripted incident response playbooks with assigned teams, standard procedures, integrated automation, status, and timelines.
Workflow dashboards & retrospectives
Measure, manage, and analyze key metrics and insights from every playbook run.
Collaborative workflow tools
Channel-based communication supporting mentions, threading, and customizable alerts.
Real-time war rooms
Audio channels and screenshare keep your team aligned when minutes count.
Flexible playbooks and run automation
Supercharge structured processes with essential context and automate repeated actions.
Integrated tooling
Connect your DevOps and Observability toolchains for better visibility across your entire toolchain.
User management
Keep your data in the right hands with granular accessibility controls and SAML SSO and SCIM support.
Robust disaster discovery and data retention
Complete, verifiable access to disaster recovery with data retention solutions
Playbooks supports emergencies really well. Communication on problems is transparent and open, and we're seeing much fewer requests by ticket or phone.