Maximize your uptime and performance
Fix issues faster with a collaboration solution that integrates deeply with your APM and NPM tools.
Cut through the noise
Monitoring the health and performance of your environment will only get you so far without taking the proper action.
Scraping metrics and identifying the root cause of an issue is half the battle. Now you can improve your response time with embedded alerts and notifications in a single space that gives teams full control and visibility without toggling between tools.
Bring your monitoring tools together
Actionable, automated alerts
Configure alarms and notifications to get alerted on critical issues and take action directly in a channel.
Avoid information overload
Easily set thresholds and automate routine tasks to focus on what matters.
Incident playbooks engineered to last
Integrate alarms to trigger a playbook start and mobilize your response team in minutes.
Channels
Real-time and async messaging with integrated voice and video
File, image, and link sharing
Rich markdown formatting
Multi-language code syntax highlighting
Unlimited and searchable message history
Playbooks
Customizable workflow playbooks
Dynamic task checklists
Task automation
Status dashboard and broadcast

Analytics dashboards
Connections
Deep integrations with popular developer tools
Community-built integrations – over 6,000 contributors world-wide
Build your own with App Framework and open APIs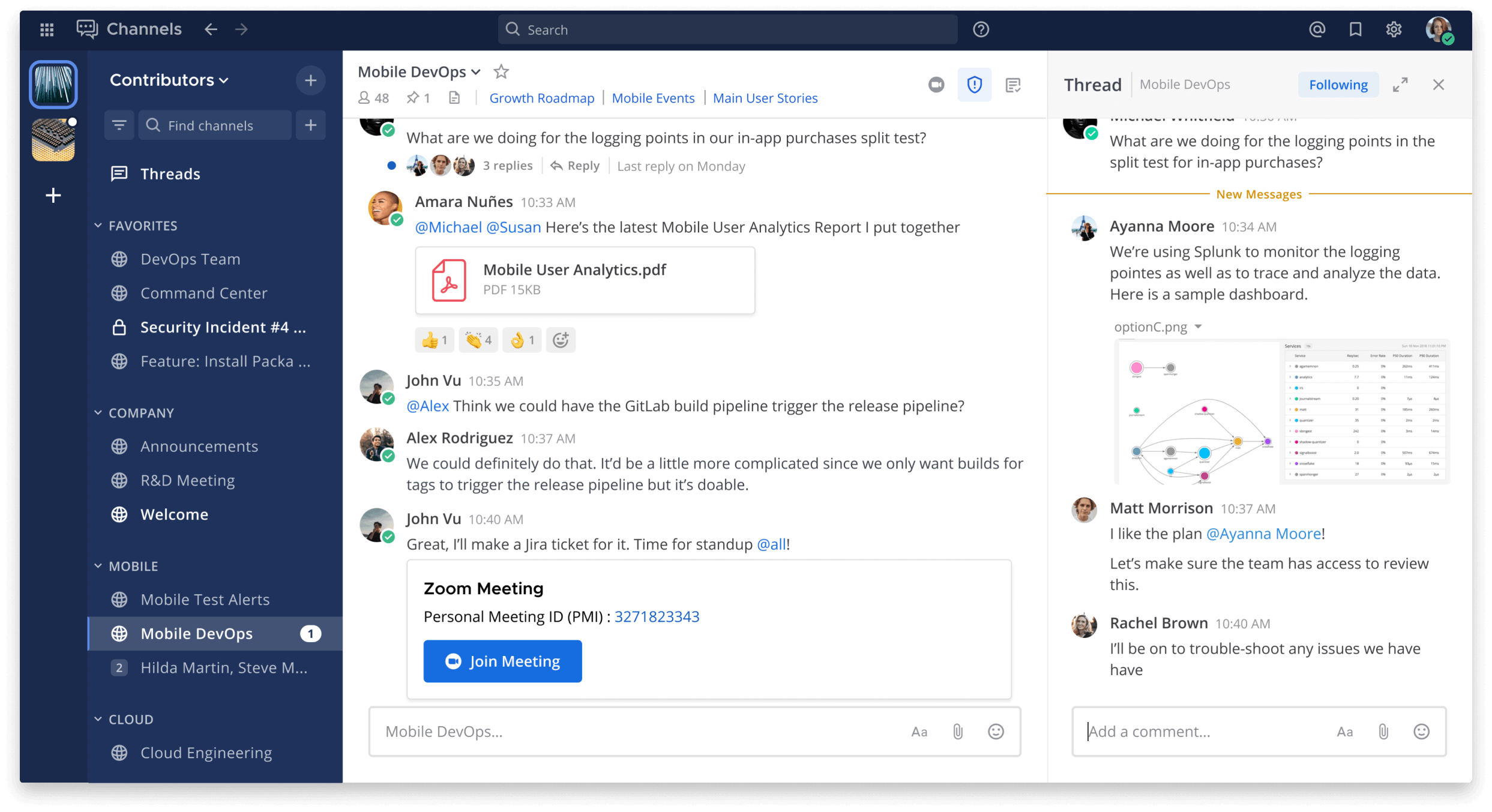 Improve uptime and availability
Faster incident resolution with fewer mistakes.
Monitoring that scales
Align your team and tools around the health of your production environment and respond to incidents faster.
Better customer experience
Get ahead of customer-facing issues by engaging the right team members at the right time.
Observability + orchestration
The only purpose-built collaboration and workflow orchestration tool for developers, SREs, and DevOps teams.
Mattermost is the easiest way possible to get people to collaborate on anything.