Sophisticated workflow orchestration made simple
Build, orchestrate, and operate your workflows with a collaboration platform built to boost developer productivity.
Fragmented workflows kill productivity
Done right, digital operations make communication, visibility, and control easier across teams, processes, and tools. But popular, single-purpose tools don't integrate well with your tool chain, adding context switching and friction every step of the way.
Staying aligned requires more than just messaging. You need a solution built for everything from real-time collaboration to long-term planning to enable your team at every time scale.
Let your work flow freely
Your modern productivity stack, all in one place
A suite of complementary productivity solutions with built-in collaboration and deep integrations with popular developer tools.
Team alignment — all the time
Communicate in real time, document repeatable processes with defined outcomes, provide visibility and accountability for long-term projects.
Build and orchestrate scalable digital workflows
Team communication, checklist-based prescribed processes, project and task management — orchestrated and automated from a single platform.
Channels
Real-time and async messaging with integrated voice and video
File, image, and link sharing
Rich markdown formatting
Multi-language code syntax highlighting
Unlimited and searchable message history
Playbooks
Customizable workflow playbooks
Dynamic task checklists
Task automation
Status dashboard and broadcast

Analytics dashboards
Connections
Deep integrations with popular developer tools
Community-built integrations – over 6,000 contributors world-wide
Build your own with App Framework and open APIs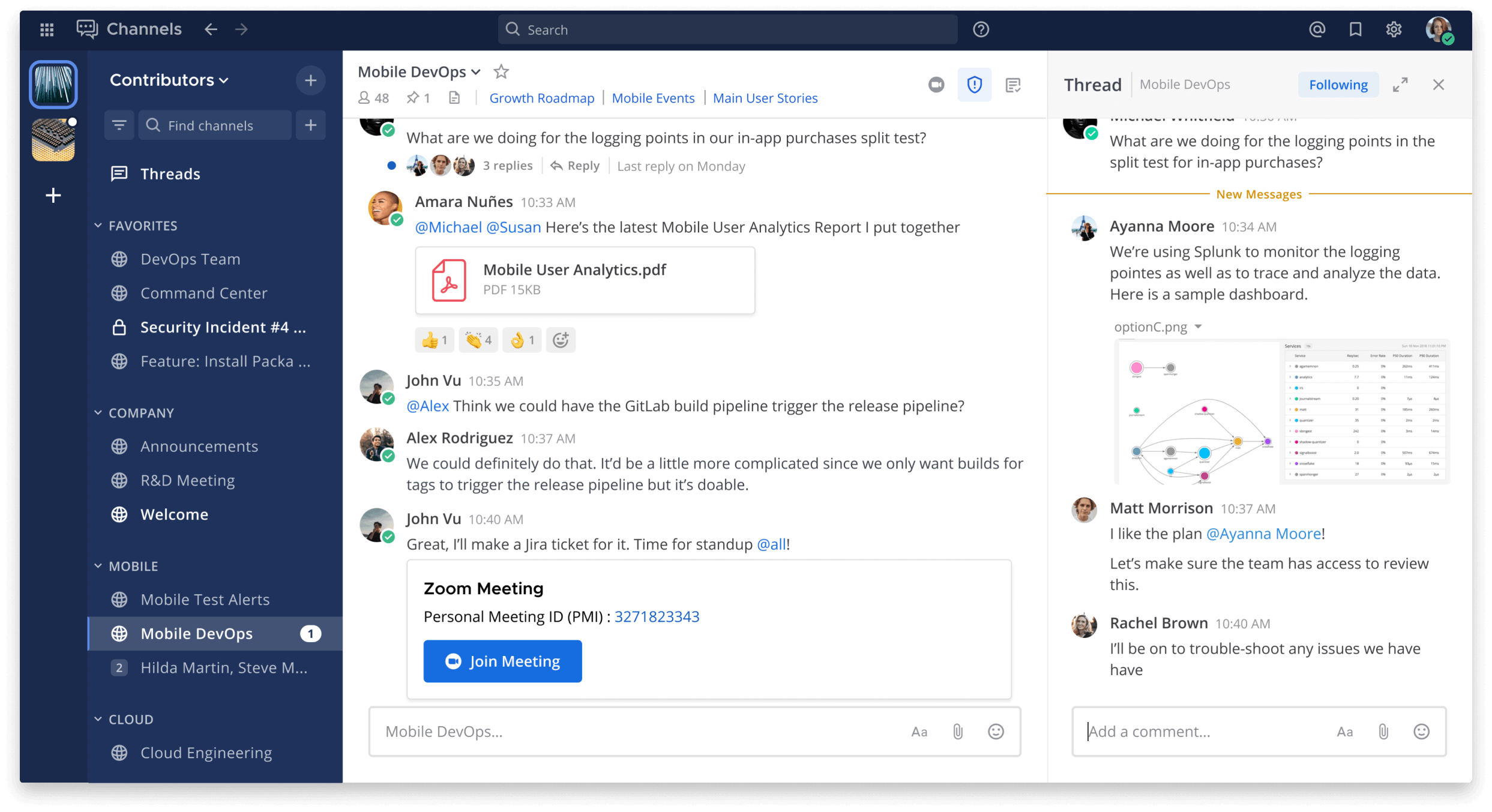 Integrates with the tools that make your work flow


One platform, purpose-built for modern R&D workflows
Tie people, tools, and processes together
Build mission critical workflows with built in collaboration to codify best practices.
Scalable and repeatable processes
Achieve alignment across teams at every time scale with robust control and visibility.
Integrate with your favorite tools
Extend the platform and build best-of-breed solutions.
Customize to your use cases
Bring cross-functional teams together and create structure around common goals.
Complete control of your data
Deploy on-premise or in a secure cloud for full data control.
Automate routine tasks
Webhooks, slash commands, and bots for speed and reliability.
Incident resolution for pros
Faster time-to-resolution with fewer mistakes with checklist-based prescribed processes.
Full access to APIs, drivers, and source code
See for yourself why we are the industry's most secure and flexible solution.
Many of our larger members could never discuss security issues with each other in real life because their lawyers would go crazy. But because Mattermost provides a secure platform, they can collaborate with other organizations within H-ISAC to solve problems.