Mattermost for Enterprise
Improve your technical operations with the world's most trusted and flexible collaboration platform.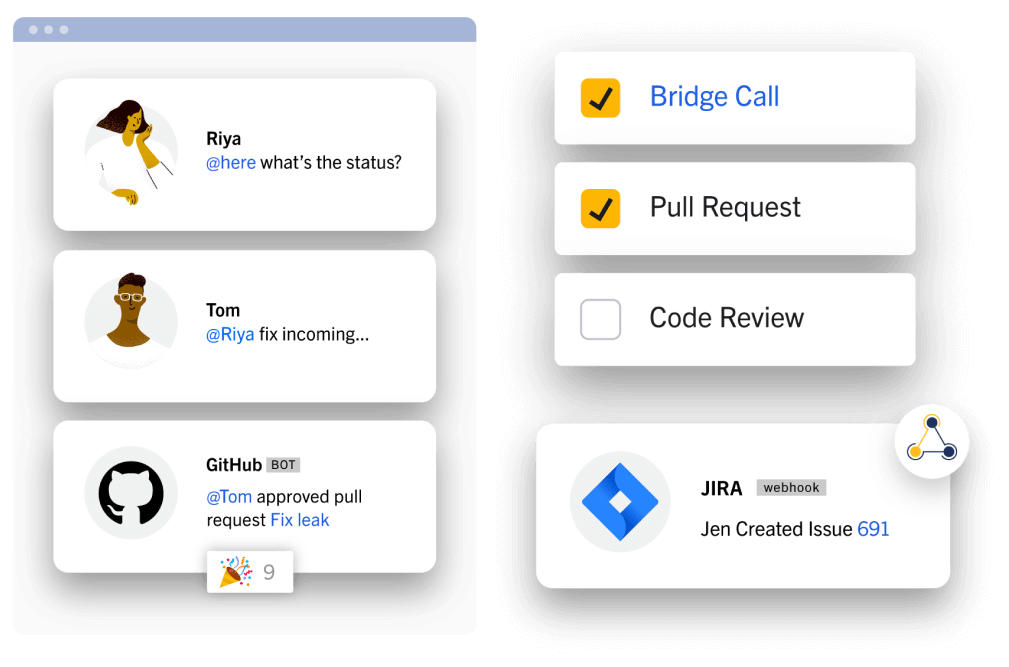 The only all-in-one solution for secure enterprise collaboration
Increase Technical Team Productivity
Keep your team aligned to achieve faster time to market and accelerate performance and revenue.
Ensure Business Continuity
Restore critical operations and preserve brand reputation through reduced downtime and shorter outages.
Improve RiskMitigation
Maintain compliance, avoid costly fines and errors, and meet industry standards for data sovereignty.
Features to support enterprise organizations worldwide
Keep teams aligned and manage technical operations with modern, channel-based collaboration designed to keep your data secure at any scale.
Align teams, tools, and processes
Connect geographically distributed team members, tools, and business-critical processes.
Modernize your operations
Transform the way your teams communicate, collaborate, and operate with technical processes that scale.
Improve team agility and delivery
Help development teams ship better code faster with solutions designed for modern, agile processes.
Maintain data sovereignty & security
Stay in complete control of your data with self-hosted deployments and strict, customizable access controls.
Efficiently execute prescribed processes
Capture workflows with checklist-based playbooks integrated with collaboration tools and stakeholder communication.
Streamline incident resolution
Fix business-critical issues fast with modern automation, customizable playbooks, debrief tools, and more.
Designed to fit the way enterprise organizations collaborate
Mattermost goes beyond general-purpose collaboration, with features designed to help developer, technical and operational teams collaborate on code, execute sprints, deploy releases, and manage outages and support escalations.
Enterprise functionality designed for teams at scale including shared channels and guest accounts, deep developer tool integrations, and unlimited file storage lets your teams across your organization collaborate seamlessly without sacrificing security.
Deployment options that keep your data secure
From financial services and healthcare companies to technology giants, teams in high-security and regulated industries trust Mattermost for secure collaboration. Configure Mattermost to meet your unique security and compliance requirements so your teams stay focused on technical operations, not whether your data is secure.
On-premise and secure private cloud deployment options
Runs in air-gapped networks
Custom Enterprise Mobility Management (EMM)
Granular permissions and controls for enterprise data retention
Compliance export
Flexible and extensible enough to fit any team, stack, or workflow
Your tools should be tailored to fit the way your teams work. Our open source code gives you complete control over your Mattermost environment. Unite your entire tech stack into a single source of truth with the ability to customize, extend, and build custom integrations with our API and App Framework.
White glove support for complex use cases
Mission-critical response times of one hour for Level 1 and two hours for Level 2 severity issues
Direct access to support engineers and development team priority for assistance or fixes
Customized account onboarding, installation, and deployment advisory
Unlimited file storage
AD/LDAP group sync
Shared channels
Custom Enterprise Mobility Management (App Config)
Granular permissions
Custom admin roles
Custom user terms of service
Compliance export and eDiscovery automation
Granular data retention policies
Channel export
HA load balancer (self-hosted)
Performance monitoring (self-hosted)
Elasticsearch (self-hosted)
24×7 support with 4-hr response SLA
Don't just take our word for it