The Self-Hosted Hipchat Alternative
With the sunset of Hipchat, enterprise teams are turning to Mattermost for secure messaging and collaboration.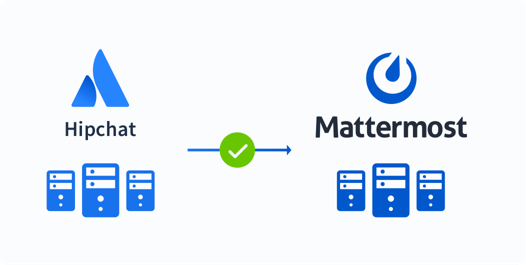 Go beyond Hipchat with Mattermost
Mattermost is a self-hosted, open source messaging platform that gives you total control over your data. Enterprise organizations trust Mattermost to power the workflows that grow their business while keeping their data safe.
Modern messaging built for developers, by developers
Migrate to Mattermost in 3 simple steps
Our migration path is straightforward, and the Atlassian partner community is helping us make it even easier. Follow these basic steps to move all your Hipchat data to Mattermost.
Step 1: Set up your Mattermost instance

Download and deploy Mattermost to your environment using the configuration that meets your organization's needs for performance and scalability.

Step 2: Migrate your Hipchat data to Mattermost

There are several options available. The HC2MM migration tool by Herzum exports your data from Hipchat and automatically sets up channels, users, and message histories in Mattermost.

Step 3: Onboard your users

Invite your teams to start using Mattermost by posting an alert in Hipchat or sending an announcement email. Mattermost Enterprise E10 and E20 provide single sign-on integrations.
Need help with migration?
Contact a Hipchat migration specialist
Thank you for choosing Mattermost
A Hipchat Migration specialist will be in touch with you soon.
By submitting this form, you are confirming you have read and agree to our Terms and Privacy Statement.