Collaboration at any distance
Keep your remote team aligned and productive, whether they're across the street or around the globe.
Fragmented tools make remote work a pain
Keeping a remote team on the same page can be a significant challenge. Without the benefits of a shared physical workspace, remote teams are continually at risk of falling out of alignment.
Fragmented tools exacerbate the problem—creating information silos and communication gaps that keep teams from working productively. It's time for a collaboration suite that brings your remote team, tools, and workflows together.
One platform for bringing remote teams together
More than just messaging
Bring mission-critical people, tools and workflows together for faster, more effective collaboration.
Communicate and collaborate any time, anywhere
Desktop, browser and mobile apps keep your information secure and accessible no matter where your team is.
Open source and extensible by design
Supported by a rich ecosystem of community-driven apps, an open API, and a developer framework so you can customize and enhance the platform to meet your unique needs.
Built for your security, privacy, and compliance needs
Choose from self-hosted or secure cloud deployment options that give you the controls you need when you need them.
Mastering Remote Collaboration
Channels
Real-time and async messaging with integrated voice and video
File, image, and link sharing
Rich markdown formatting
Multi-language code syntax highlighting
Unlimited and searchable message history
Playbooks
Customizable workflow playbooks
Dynamic task checklists
Task automation
Status dashboard and broadcast

Analytics dashboards
Connections
Deep integrations with popular developer tools
Community-built integrations – over 6,000 contributors world-wide
Build your own with App Framework and open APIs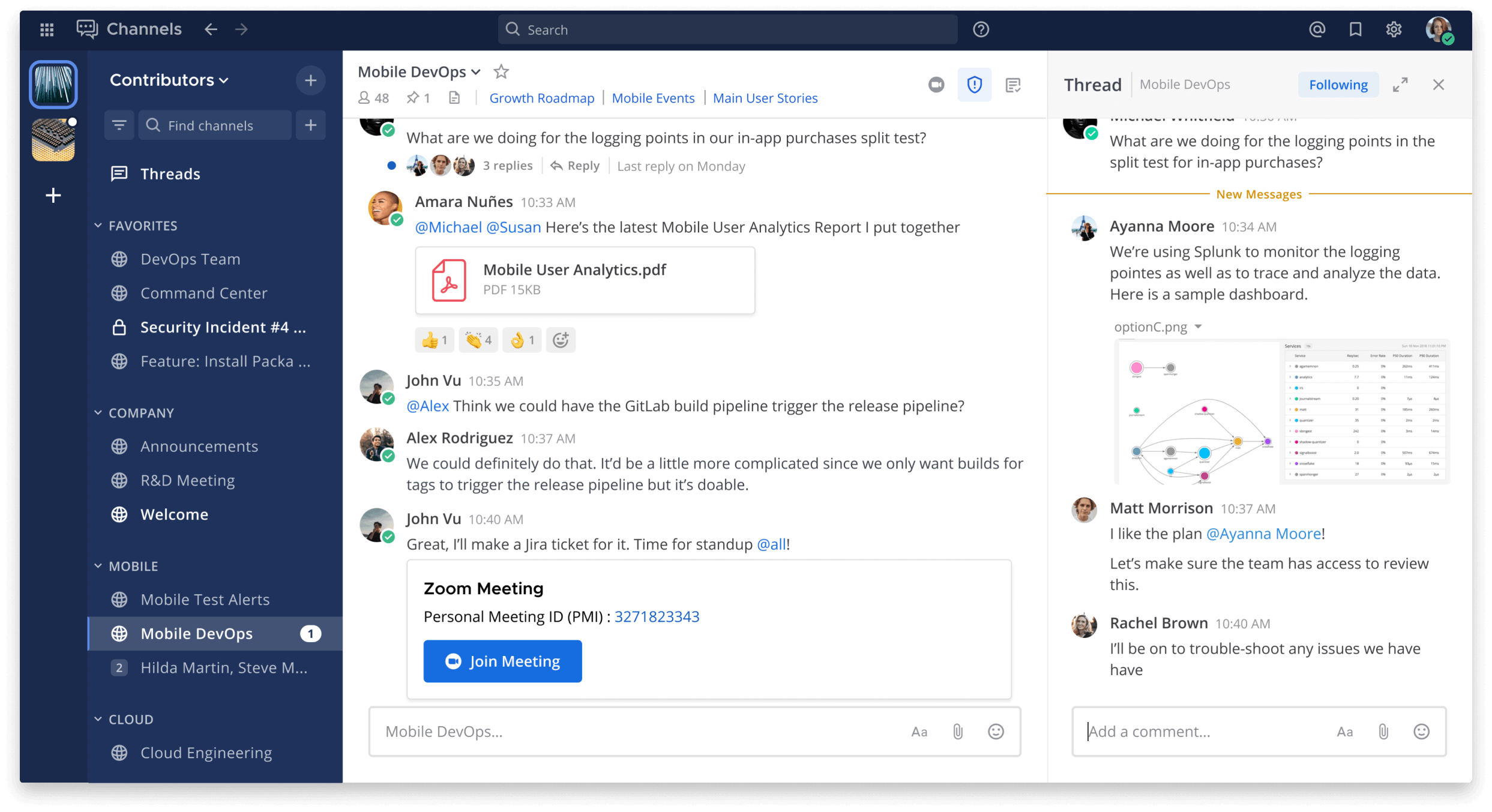 Integrates with the tools that make remote work easier

Work securely, wherever you are
Self-hosted deployment and database ownership
Retain full control over your company's sensitive data with no third-party monitoring.
Flexible data retention controls
Define granular controls for enterprise data archiving to keep data properly secured and accessed.
Advanced mobile security
Our mobile apps work with EMM solutions. Full source code is available for custom solutions.
Secure cloud and data isolation
Get a dedicated Kubernetes cluster, fully isolated from other customers, fully managed by Mattermost with the highest security.
Data encryption at rest and in transit
Keep your data safe with encryption under your control, at rest and in transit.
Full access to APIs, drivers, and open source code
See for yourself why we are the industry's most secure solution.
Mattermost provided a great way for people to communicate while working remotely without having to fall back to things like phone calls or video conferences for anything that could be handled using text.