Mattermost Boards How-to: Project Management
Editor's note: Boards is no longer part of the default Mattermost product offering, but is available as a plug-in.
Whether you're working on a small feature or a large cross-team initiative, you'll need a way to track tasks and keep everyone up-to-date. Managing projects on spreadsheets isn't optimal for most teams, and specialized project management tools may lack flexibility and robust communication options. With Mattermost Boards, you can create fully customizable boards to fit your project needs. Boards are updated instantly as soon as any changes are made, so your teams can stay in sync with a single source of truth. Moreover, Boards is integrated into the Mattermost platform, so you can collaborate and communicate seamlessly between Boards and Channels.
In this guide, we'll show you how to customize a pre-built Mattermost Boards template to create your own project board. You'll then be able to manage tasks and collaborate with your team members all from one centralized location. Each board will help your teams stay aligned to complete tasks, reach milestones, and achieve their goals.
What you'll need:
About the Project Tasks template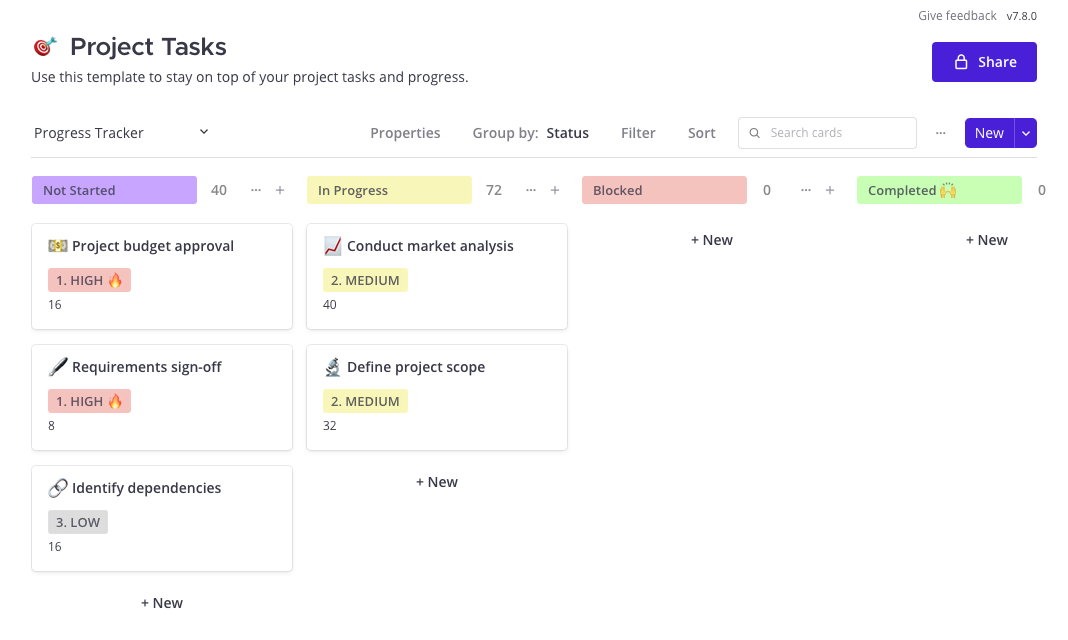 The "Project Tasks" template is designed to give you a solid starting point to kick off your next project and help you stay on top of your tasks, track progress, and set priorities. All boards in Mattermost have the same set of features, but the built-in templates come with predefined properties, saved views, and example cards to help you get started quicker.
The "Project Tasks" template includes the following properties out of the box:
Status – Keep your team up-to-date on the status of your work item. Predefined values include: Not started, In progress, Blocked, Completed, and Archived
Priority – Prioritize your work items by assigning a priority value of High, Medium, or Low
Assignee – Assign team members on work items so everyone understands who is responsible for what
Estimated Hours – Set time estimates to help you plan and reach your milestones
Due Date – Set target dates to stay on track
Created By – Identify who created the work item so you know who to contact if there are questions
Date Created – Identify when the work item was added to the board.
The "Project Tasks" template also includes the following saved views out of the box. All of the default properties and saved views included in the template can be modified to fit your project workflow.
Progress Tracker – Track your work in a Kanban view as your tasks progress through each stage of the project.
Project Priorities – Easily identify which tasks you need to focus on first with a kanban view of cards grouped by their priorities.
Task Calendar – Track and visualize all your deadlines on a calendar view.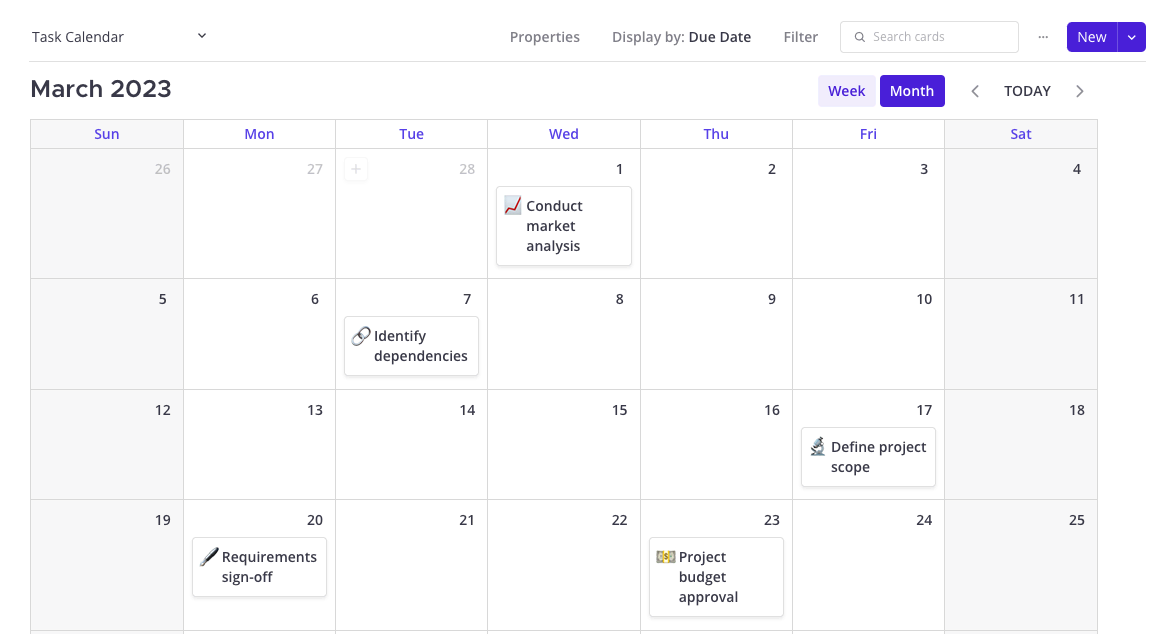 Task Overview – Get a high-level overview of all tasks in a table view.
How to use and modify the Project Tasks template
In Mattermost, navigate to Boards using the global menu in the upper left corner. Select the + icon at the top of the sidebar, then select "Create new board" to open the template picker. Select the "Project Tasks" template.
Once a board is created from the template in Mattermost, you'll be able to start modifying it to suit your project. Start with the title and board description! Here are some other areas you might consider making changes:
Customize card properties by modifying the existing values and adding additional properties to suit your project needs.
Add new cards to reflect all the work items that need to be completed.
Assign property values on each card such as a status, priority, and dude date, along with a description of each work item towards the bottom of each card.
Attach files to cards where you need to share or reference documents.
Create additional saved views to help you visualize the data in a way that makes most sense to you. Boards can be displayed as kanban, table, calendar, and gallery views.
Add board members through the Share dialog so team members have access to your board.
Mention board members on card comments to ask questions and provide updates.
Follow cards to get automatically notified when there are any updates.
Link the board to a relevant channel so all channel members can quickly find and access the board.
Share the board publicly so external stakeholders can view progress without editing the board accidentally.
Get started with Boards
Mattermost Boards is a powerful project planning tool for any team. With Mattermost Boards, you have the full flexibility to plan and manage projects your way. Check out more ways to customize your board in our docs.
Ready to kick off your next project in Mattermost Boards? Learn more about spinning up your own Mattermost environment to get started today.